Auburn and University of Alabama among 'Best College Towns in the South for 2022'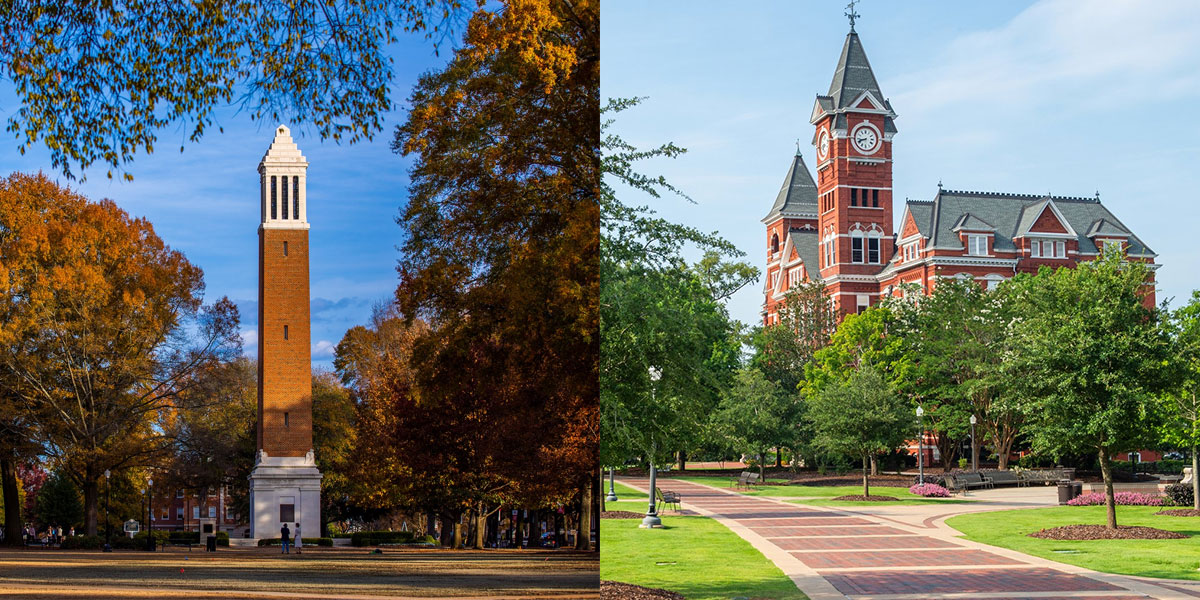 The University of Alabama and Auburn University both rank among the best in Southern Living's recently unveiled "Best College Towns in the South for 2022."
The poll, voted on by readers, placed Tuscaloosa at number seven and the Plains at number three.
Southern Living highlighted college towns that were loved for reasons that went beyond their football programs. Schools that round out the top 20 were highlighted for various characteristics, including scenic natural surroundings, beautiful parks, and thriving urban scenes.
Of course, culture, food and entertainment have also been taken into account. You can't talk about college towns without talking about food. In the South, people gather around the dinner table; food in many ways defines the "South". Food is such a big part of the culture, especially on Saturdays in the fall.
If you're lucky enough to make it to your college town on game day, you'll be treated to some of the best meals with friends you didn't know you had an hour before you arrived. The fiercest of rivals in an Iron Bowl can laugh and share life stories over a plate of barbecue. Want to tame two tigers from different schools? Have them share a bowl of bayou okra. With many historic restaurants in these college towns and new food fusion restaurants, regardless of the score at the end of the game, if you dine in these college towns, your taste buds are a winner.
Many college towns on the list had historical traditions highlighted, such as the rolling of Toomer's Corner after a victory that makes for a memorable experience and binds generations in a fantastical ritual. But many have been put forward for museums and cultural institutions. University towns have increasingly become a place for the development of arts and culture.
Entertainment is equally important in what makes these cities so great. Live music scenes popping up in these cities have become a new trend in college towns. Take the Tuscaloosa Amphitheater which hosts year-round concerts with everything from up-and-coming artists to touring headliners in every genre of music.
Southern Living pointed out that "at the end of the day, there's only one thing all of these towns seem to have in common – and that's your devotion to them."
So let your majestic greeting to your friends and family be "Roll Tide" or "War Eagle". Citizens of Alabama can be proud that both of their schools have earned high marks for places that are great places to live and visit. The next time you travel to these cities, make a plan to explore all they have to offer.
Southern Living wrote of the University of Alabama:
"Forget to say hello…the only joke you'll need to know here is 'Roll Tide.' With 18 college football national championships under the University of Alabama's belt, it's no surprise the city comes alive on fall Saturdays when fans flock to Bryant Denny Stadium. Even so, there's plenty to savor out of season; think concerts at the Tuscaloosa Amphitheater and hickory-smoked ribs at Dreamland Bar-BQ's flagship spot.
The outlet said of Auburn University:
"Called the 'Prettiest Village on the Plains,' the Alabama town is garnering attention these days for its burgeoning foodie scene, which celebrates everything from slow-smoked brisket at Bow & Arrow to bao buns. steamed at The Irritable Bao. And you can't talk about Auburn without mentioning their penchant for rolling Toomer's Corner with toilet paper after any home win. Homesick Tigers can even spot the beloved block anytime via a live web stream.
To see the full ranking, go here.