Castle Cookers Serving Brotherhood and Fellowship with May Memphis BBQ > Memphis District > News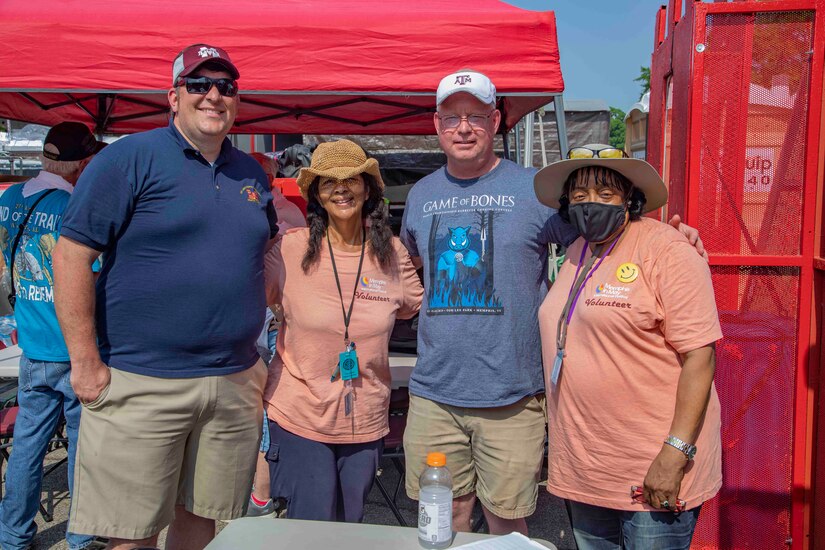 Recognized by USAToday as the "Most Prestigious Barbecue Contest," the four-day Memphis in May World Championship Barbecue Cooking Contest (WCBCC) was held May 12-14 this year.
This world-renowned competition features championship pork categories including ribs, shoulder and whole hog, as well as ancillary competition categories of hot wings, gravy and "everything but pork".
The District of Memphis has participated in this barbecue competition for years, with the Castle Cookers first competing in the WCBCC in 1991 as the Pork Barrel Barbecuers. This year marked 31, with the Memphis District Corps of Engineers team made up of workers from all parts of the district.
"We are a 'for us by us' team that plans, fundraises, cooks, serves and participates in the Memphis in May (MIM) event each year," explained Outreach Coordinator Brian Schneider.
This year, the Memphis District Castle Cookers were represented by: Program Analysis Manager Jennifer Thomas, Program Analyst Sara Waterbury, Program Analyst David Alverez, Outreach Coordinator Brian Schneider (entries tomato sauce and poultry), Work for Others Technical Manager Jordan Bledsoe, Civil Engineer Morgan Cowles (Seafood Entree) and Sounding Boat Operator Brian Schafer (Crayfish).
Although the event took place at Tiger Lane this year, Schneider explained that the district's rich history with Tom Lee Park, which was built by the Corps as a protective levee, provides a cohesive connection to the neighborhood, the community and region.
"It allows the Corps to give back a little bit at events like MIM," Schneider continued. "We're proud to be able to tell the story every year to the on-site barbecue judges, most of whom have no idea the connection between the Corps and the park," Schneider added.
The Castle Cookers normally only compete in the ribs division, but this year they also competed in other ancillary categories including tomato sauce, poultry and seafood.
The team served and presented amazing food, competing against the best of the best in the world, so where they ranked in the following categories is impressive to say the least. Congratulations, team!
Tomato sauce: 19th out of 127 (Brian Schneider's secret recipe)
Seafood: 74th out of 120 (shrimp, crayfish, sausages and grits)
Ratings: 89th out of 104
Poultry: 115th out of 127 (chicken, bacon, Buffalo sauce and ranch egg rolls)
While the event was a contest, at the end of the day the team fed employees to promote camaraderie and brotherhood, boost morale and sit down and enjoy a great meal with great colleagues .
For lunch and dinner, the Castle Cookers served smoked bologna, smoked sausage, beans, coleslaw, pulled pork, smoked chicken and other savory snacks. Also, on Thursday night they served an old fashioned crawfish boil for dinner.
Before we thank anyone, the Castle Cookers first wanted to acknowledge the people who even made sure they had a place to cook all of this amazing food in the first place…so, thank you, thank you, thank you Chief Mechanic Robert Woods and his team. of Ensley Engineer Yard.
"While a few of us 'helped out', these guys did an incredible job with the assembly and dismantling, as well as the main façade of the castle," Schneider said. "The head cooks would not have entered the competition without their hard work and sacrifice for the team."
As well as thanking the members of the Castle Club team for cooking such great food, we would also like to thank our retired volunteers, Rob Ridinger and Boyd Mann, for cooking on Wednesday night.
Finally, a big thank you to the volunteers who helped with the set-up, preparation and service: Dale Schmand and his wife Marianne, David Slocum, John Wilburn, Jennifer Thomas's husband Jimmy, and his friend Carrie, the wife of David Alverez, Shelia, and Brian Schafer's brother, Joey.
Congratulations again, Castle Cookers! And thank you so much for the great food and amazing memories. We know we speak for everyone when we say we can't wait for next year's event!