"It's the last thing I wanted" – Wilde and Brownlee still won't talk – Elite News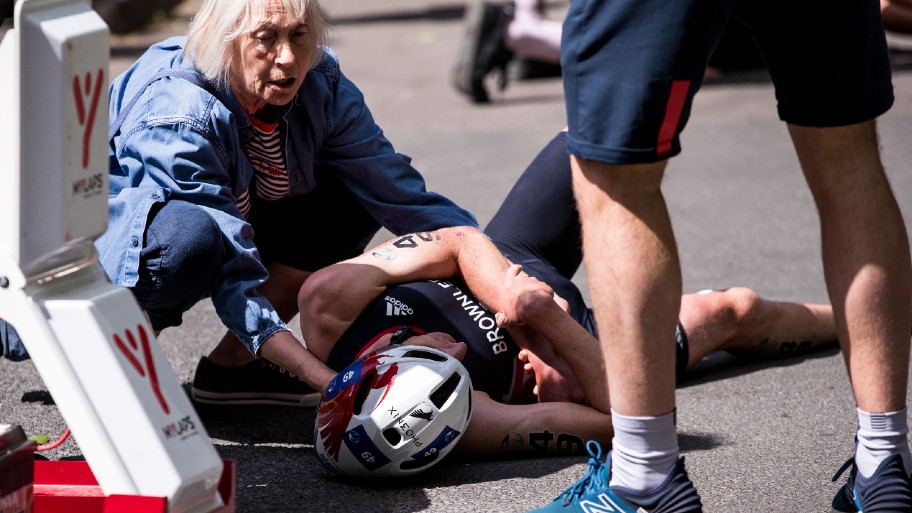 Ahead of the first Super League Triathlon Championship Series race in London, it emerged that Jonny Brownlee and Hayden Wilde are barely on good terms.
Brownlee's season was cut short by an accident at the WTCS event in Leeds in June which saw him suffer a broken elbow and wrist, with Wilde admitting partial responsibility.
This saw Brownlee ruled out of the Commonwealth Games, where Alex Yee and Wilde won individual gold and silver respectively. And then the England team, of which Brownlee would have been a part, won the mixed relay to underline the consequences.
Yee was also caught up in the Roundhay Park accident which made his WTCS ambitions this year more difficult.
"The Last Thing I Wanted"
Much has been said by all parties, but arguably the most revealing interview since came via SLT on the eve of their season opener at Canary Wharf.
It's worth watching in full below, but the most relevant points start with host Will McCloy asking Yee if he blamed Wilde for the crash.
His response was: "Racing incidents happen all the time and I have nothing against anyone.
Wilde for his part added: "I blame myself for being part of the incident but I don't think it was just me. Unfortunately Jonny and Alex were in my wheel and that had a ripple effect.
Wilde adds: "I tried to contact him several times to make sure he was okay, it's the last thing I wanted.
"I hope we can rekindle the friendship there, but we haven't spoken since then. He's an absolute legend.
"We have to take care of each other"
This all followed a same-day interview of Brownlee with his local newspaper, the Yorkshire Post.
Without naming anyone in particular, he revealed the impact of the accident on his self-confidence.
"As the bones have healed, the mental recovery has been more difficult. A lot of the importance of cycling is being good in a group, being quick in the corners, and all of that was taken away from me at because of what happened.
His first comeback race in Bergen last week will hopefully be an important stepping stone for the 32-year-old, but his later comments about the culture within triathlon have been singled out.
"I don't want to be one of those old runners who complain about the new breed of runners, I don't want to be that person, but I think the powers that be need to come down harder on people who are intentionally dangerous. .," Brownlee said.
"I totally understand that when you're going 40mph you're going to have crashes, that's part of it, but I really think there are two kinds of aspects.
"First of all, athletes have to take care of each other, it has to come from within, rules and regulations can't do much. We don't want a situation where you can't overtake in certain areas, where this turn is dangerous.You want the athletes to take care of themselves and monitor it themselves.
"And two, we need a little help from the authorities, that if it's the same people who are dangerous or reckless and causing accidents, then they need to crack down on those guys.
"In my career, I don't know how many races I've done, but I've never caused a crash myself. I like to think that I run with respect, pay attention to people, be competitive, but know where that line is and don't cross it.