July: COVID-19 vaccine protection | News and features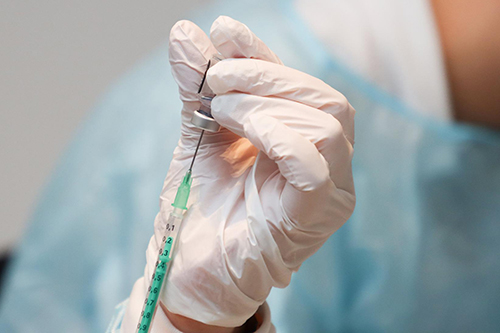 Protection against severe COVID-19 by two doses of Pfizer-BioNTech and AstraZeneca COVID-19 vaccines remained high for up to six months after the second dose, according to new research that analyzed data from NHS health records on more than seven million adults. Reassuringly, the study led by the University of Bristol published today in The BMJ [July 20]found protection in people over the age of 65 and in clinically vulnerable adults.
Researchers from Bristol Medical School, the University of Oxford and the London School of Hygiene and Tropical Medicine sought to study how quickly vaccine effectiveness declined over time in adults without previous infection with SARS-CoV-2 and who had received two doses of BNT162b2 (Pfizer-BioNTech) or ChAdOx1 vaccine (AstraZeneca) COVID-19 compared to unvaccinated people.
Using linked GP, hospital, and COVID-19 records on 1,951,866 and 3,219,349 adults who had received two doses of BNT162b2 and ChAdOx1, respectively, and 2,422,980 unvaccinated adults, the researchers were able to provide a clearer picture of vaccine effectiveness against COVID-19 hospital admission, COVID-19 death and positive
SARS-CoV-2 test.
Rates of hospital admission and death from COVID-19 were significantly lower in vaccinated adults than in unvaccinated adults up to six months after their second dose. Vaccine efficacy against these events was found to be at least 80% for BNT162b2 and at least 75% for ChAdOx1. However, the waning efficacy of the vaccine against SARS-CoV-2 infection meant that rates in vaccinated people were similar to or higher than those in unvaccinated people six months after the second dose.
Dr Elsie HorneSenior Research Associate in Medical Statistics and Health Data Science in Bristol Medical School: Population Health Sciences (PHS) and lead author of the study, said: "Until now there has been limited and conflicting evidence regarding the rate of decline after second dose of COVID-19 vaccines, whether they extend to severe COVID-19, and whether the rate differs by age and clinical vulnerability.
"Although we found that the protection against severe COVID-19 provided by two doses of vaccine decreases over time, the very high initial protection means that, despite the decline, protection remains high six months after the second dose. This finding was consistent across all adults, including the elderly and people at risk for severe COVID-19. »
Jonathan SterneProfessor of Medical Statistics and Epidemiology at Bristol Medical School: PHS, Director of National Institute for Health and Care Research Bristol Biomedical Research Center (NIHR Bristol BRC), Director of Health Data Research UK (HDR UK) South West and co-author, added, "We found that the rate at which vaccine efficacy declined was consistent across all subgroups defined by age and clinical vulnerability. "
The researchers now plan to conduct a follow-up study on the effectiveness of the vaccine up to one year after the second dose and into the era of the Omicron variant. They are also studying the rate of decline in vulnerable clinical subgroups, such as those with chronic kidney disease and cancer.
The study was supported by two National baseline studies on COVID-19 (NCS) programs: COVID-19 Longitudinal Health and Wellbeing and COVID-19 data and connectivity; Asthma United Kingdom; NHRI (National Institute for Health and Care Research) and Welcome. TPP provided technical expertise and pro bono infrastructure in the context of a national emergency.
Paper
'Declining efficacy of BNT162b2 and ChAdOx1 covid-19 vaccines over six months since second dose: OpenSAFELY cohort study using linked electronic health records' by E Horne et al in The BMJ [open access]
More information
About the National Institute for Health and Care Research (NIHR)
The mission of National Institute for Health and Care Research (NIHR) is to improve the health and wealth of the nation through research. We do this by:
Fund high quality and timely research that benefits the NHS, public health and social services;
Invest in world-class expertise, facilities and a skilled workforce to translate discoveries into improved treatments and services;
In partnership with patients, service users, caregivers and communities, improving the relevance, quality and impact of our research;
Attract, train and support the best researchers to tackle complex health and social protection challenges;
Collaborate with other public funders, charities and industry to help shape a cohesive and globally competitive research system;
Fund applied global health research and training to meet the needs of the poorest people in low- and middle-income countries.
NIHR is funded by the Department of Health and Social Care. Its work in low- and middle-income countries is primarily funded by UK Aid from the UK government.
About the National Institute for Health and Care Research Bristol Biomedical Research Center (NIHR Bristol BRC)
The National Institute for Health and Care Research Bristol Biomedical Research CenterNIHR Bristol BRC's innovative biomedical research takes science from the lab or computer and develops it into new drugs, treatments or health advice. Its world-renowned scientists work on many aspects of health, from the role played by individual genes and proteins to the analysis of vast collections of data on hundreds of thousands of people. Bristol BRC is unique among NIHR's 20 BRCs across England, thanks to its expertise in groundbreaking population health research.
About OpenSAFELY
OpenSAFELY is a new, highly secure software platform built during the COVID-19 pandemic for secure analysis of electronic health record data, covering 57.9 million patients in England. It was specifically designed to address concerns about patient confidentiality when conducting large-scale searches with patient records. Analysts write code in OpenSAFELY to answer important research questions without requiring direct access to underlying patient records; all platform activities are publicly recorded for greater transparency; all code is shared automatically for other researchers to review and reuse efficiently. This secure and transparent approach to the use of medical data has received strong support from privacy advocates, including in parliamentand an independent body Citizens' Jury on Data Sharing During COVID-19 commissioned by NHSx and the National Data Guardian. OpenSAFELY is a collaboration between the Bennett Institute at the University of Oxford, electronic health record software providers TPP and EMIS, and university teams at LSHTM and Bristol, with NHS England acting as data controller. data.
More information is available at: https://www.opensafely.org/