Latest cost of living news: TUC leader warns Boris Johnson not to blame workers for crisis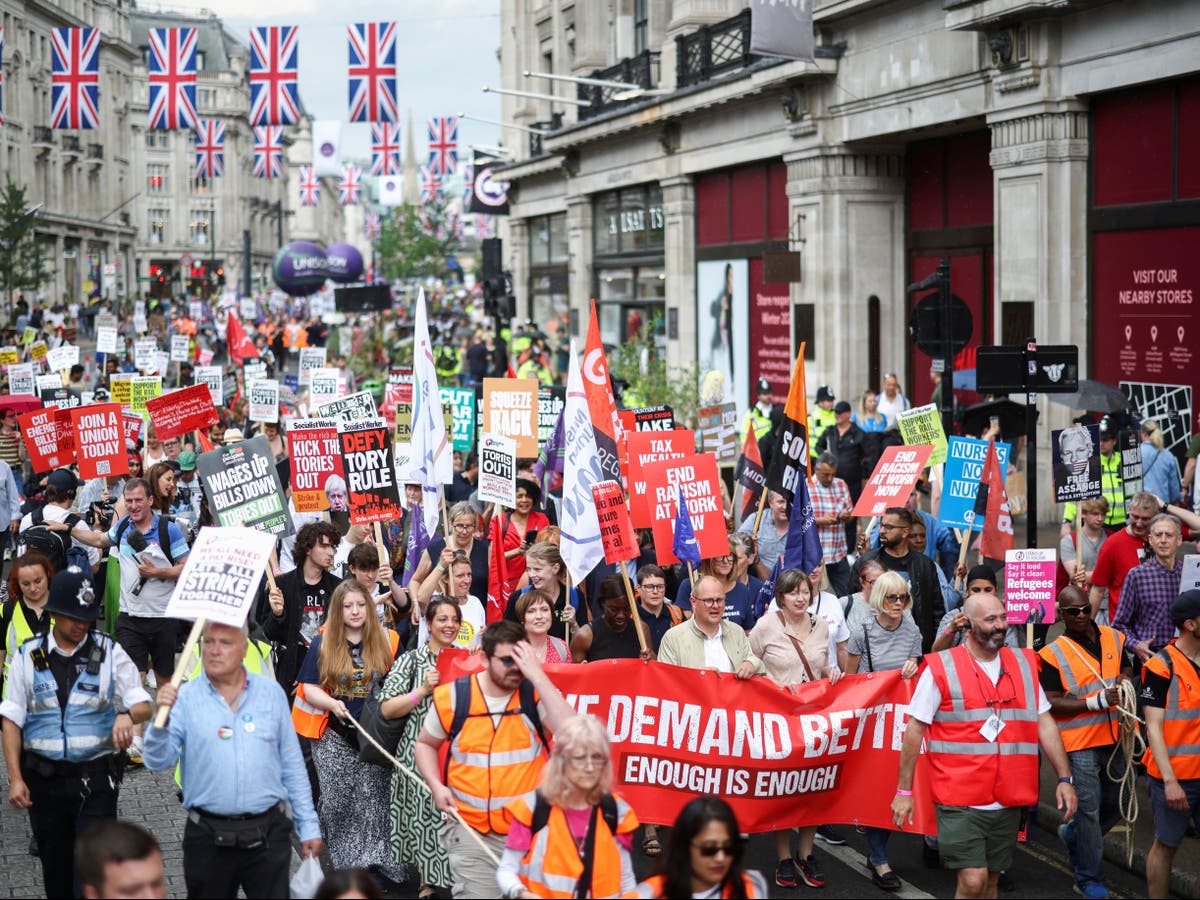 Demonstration against the ongoing cost of living crisis in London
The leader of the TUC, which has organized thousands to rally against the cost of living crisis, has warned the Prime Minister not to blame it on workers.
"Let me say this to Boris Johnson – don't dare blame the inflation on working people," she told the crowd.
"Don't dare, not after a decade of austerity, privatization and wage cuts. Don't you dare tell working families that we have to endure more pain.
Earlier Mr Johnson said Britain would weather the crisis and 'move strongly to the other side' as he said he sympathized with those facing pressure.
The TUC says workers have lost almost £20,000 since 2008 because wages have not kept pace with inflation.
Meanwhile, Home Secretary Priti Patel has said the "absolutely outrageous" decision by the European tribunal which effectively founded the first flight to send asylum seekers to Rwanda was politically motivated.
Mr Johnson said the government would continue with its plan for Rwanda and defended the Home Office's plans to electronically tag some asylum seekers arriving in the UK.
1655583008
Boris Johnson's former ethics adviser quits 'over PM's willingness to break the law'
Former Downing Street ethics adviser Christopher Geidt has sparked fresh calls for Boris Johnson to step down, saying his decision to quit was motivated by the Prime Minister's willful intention to breach international law.
In a second letter to explain his shock resignation on Wednesday, Lord Geidt said the details of the steel tariffs row that ultimately prompted his departure were a "distraction" from his true motivation. Andrew Woodcock reports:
Jane DaltonJune 18, 2022 9:10 p.m.
1655581208
Opinion: Returning power to the people to address both challenges
We face the twin challenges of building a country that works at full throttle and the climate emergency, writes Lisa Nandy for The Independent.
The solution must be to restore the balance of power in favor of those who have a stake in the outcome. We need to make sure that every region has a local growth plan and the powers to implement it, and we need to break a century of centralization and get power back to people who can use it to rebuild their parks, libraries, shopping streets and youth clubs that make up the social fabric of a place:
Jane DaltonJune 18, 2022 8:40 p.m.
1655580008
Tory rebels to pressure PM as by-election 'disaster' looms
Tory MPs warn that a double by-election defeat on Thursday will put further pressure on Boris Johnson's leadership as the beleaguered PM tries to get out of the Partygate scandal:
Jane DaltonJune 18, 2022 8:20 p.m.
1655578808
Four-day week could work well, government admits, as pilot kicks off
Government officials have accepted that a four-day week "may work" for some businesses as the world's biggest trial of reduced working hours kicks off in the UK, writes Jon Stone.
The Independent understands that officials from the Department of Business, Energy and Industrial Strategy are closely monitoring the pilot program and have already met with the study organizers to find out more.
Jane DaltonJune 18, 2022 8:00 p.m.
1655576408
Beware of Ukraine fatigue, Johnson warns
Boris Johnson has said the West must continue to support the Ukrainians as they seek to reclaim territory seized by Russia, saying it would be a disaster if President Vladimir Putin could claim victory.
After visiting Kyiv yesterday, the Prime Minister warned that Ukraine should not be encouraged to accept a "bad peace" which would only be the prelude to a new Russian offensive.
Mr Johnson also defended his decision to pull out of a conference of northern Tories on Friday so he could meet Ukrainian President Volodymyr Zelensky.
The timing of the visit led to accusations he was snubbing the north ahead of a crucial by-election in Wakefield in West Yorkshire which the Tories are widely expected to lose.
However, speaking to reporters at RAF Brize Norton on his return, Mr Johnson said it was important to demonstrate UK support at a time when the Ukrainians were 'suffering terribly' in the face of the Russian offensive underway in the Donbass.
"I think it's very important to go to Ukraine at a particularly critical time. What we fear is that a bit of Ukrainian fatigue is starting to set in around the world," he said. he declares.
Jane DaltonJune 18, 2022 7:20 p.m.
1655573408
Opinion: The trade war with Europe is the latest in the Prime Minister's series of hijackings and deceptions
Boris Johnson is trying to drag the EU into a trade war as he has also trashed the UK's international reputation by breaking international law and amplifying division in Northern Ireland, writes Caolán Magee. Other recent deviations include imperial measures on pint glasses, a smoking ban, and the sending of refugees to Rwanda:
Jane DaltonJune 18, 2022 6:30 p.m.
1655570408
Judges who blocked Rwanda flight are racist, claims Priti Patel
EU judges who stopped deportations from Rwanda on Tuesday are racist, Home Secretary Priti Patel has said.
Rwanda has a recent history of genocide and human rights abuses, she said, but it was rebuilding.
"If it was France, if we sent people to Sweden, to New York, to Sydney, would they [the critics] change one's mind ? " she asked. "It's actually about built-in bias and, I'd even go so far as to say, racism," The temperature reports.
Jane DaltonJune 18, 2022 5:40 p.m.
1655567408
Angela Rayner joins London protesters
Deputy Labor leader Angela Rayner has joined protests in London calling for action on the cost of living crisis.
Jane DaltonJune 18, 2022 4:50 p.m.
1655565008
Photos from the London protest
Jane DaltonJune 18, 2022 4:10 p.m.
1655562908
Ministers chase headlines while making cuts, says Starmer
Labor leader Sir Keir Starmer has accused the government of making headlines over Rwanda's deportation plan – while planning cuts to the agency that fights human traffickers.
Referring to the government's actions to try to stem the arrival of migrants in small boats, he said: "What I want is a serious response because nobody wants these Channel crossings to happen, these perilous crossings.
"Everyone wants to suppress the gangs. This requires adult work with the French authorities and upstream work to fight concretely against these gangs.
"You don't do that if you're a government asking the National Crime Agency to make cuts."
Labor has said the Home Office is considering cutting the National Crime Agency by 20%.
Ministers have already cut spending on the International Corruption Unit, which is part of the agency, by 13.5% this year and want to cut 91,000 civil service jobs.
Government 'stealing headlines' with plans to tag asylum seekers, says Starmer
Jane DaltonJune 18, 2022 3:35 p.m.