Lions Club Plans Accelerate for Inclusive Regional Playground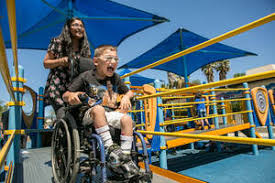 by Dennis Dalman
Plans have accelerated to realize a long-awaited dream – an inclusive regional playground in the Sartell Lions Regional Community Park, located directly across from City Hall.
An inclusive playground is a playground in which children with physical disabilities, including those in wheelchairs, can interact socially and play together on its non-slip rubbery surface.
The park will be designated as "regional," meaning anyone from any region can enjoy it.
On the playground will be 12 main pieces of recreation equipment designed by local parents whose children would benefit from such a recreation opportunity. A feature will be a wheelchair accessible carousel.
The estimated cost to build the playground is $400,000 and three Lions clubs have partnered to raise funds for the project. These clubs are the Sartell Lions, the LeSauk Lions and the St. Stephen Lions. They also applied for an International Lions grant of $100,000.
The City of Sartell and the Sartell-St. Stephen's School District is also a partner in the playground project, along with numerous partners – who, along with the Lions, will provide input into the design of the layout.
Lions clubs around the world have for decades undertaken projects to help people with disabilities, especially those who are visually impaired or blind. The clubs fund and promote lead dogs and eyeglass recycling, as well as a wide variety of civic projects such as scholarships, cleanups, Adopt a Highway, buckthorn removal, tree drives Christmas and countless ways to help those in need.
There are 18 members of the Sartell Lions, about 50 in the LeSauk club and nearly 40 in the St. Stephen club.
Sartell Lions Club President/Secretary Stu Giffen explained why he and many others are excited about the playground project.
The Sartell Lions, led by member Mike DeLuca, created the Sartell Lions Community Park in 2004 on a wooded area, providing paths wide enough for wheelchairs, handrails and other amenities, including a playground games. The play area is popular, but unfortunately it was not designed for children with special needs.
The closest inclusive playground is 60 miles from Sartell, Giffin said, adding that about 200 children living in Sartell have special needs.
"The playground would be ideally located near schools, a bike path, the Scheels Event Center, businesses and homes," Giffin said. "It will be a great addition to the whole region. The three Lions clubs work hard to fund it through individuals, businesses and other Lions clubs. This is a great opportunity for residents of the Sartell area to improve our community for all children.
Jill Murphy, supervisor of the school district's special education program, is thrilled with the proposed playground. She wrote the following endorsement of the project.
"We strongly believe that an inclusive playground at Lions Community Park will not only appeal to our local families, but will become a regional draw for a population of children who typically don't have access to neighborhood playgrounds." The community town of Woodbury saw this happen when creating "Madison's Place". It is an incredible statement of a community's values ​​to provide inclusive environments for its children.
"An accessible playground at Sartell will promote the inclusion of many people: children who use wheelchairs, walkers or other mobility aids; children with balance problems and gross motor delays; and students with autism or other sensory processing needs. Beyond children, this accessibility will also impact parents with disabilities who may not be able to physically support their children as they learn to play in a non-accessible playground.
Sartell Schools Superintendent Jeff Ridlehoover also expressed support for the playground.
"Our district is thrilled to have been asked to partner in the design and promotion phases of the project. This project is amazing and we will continue to support it with words and time," Ridlehoover wrote.
Fundraisers
A major playground fundraiser will kick off from 2-5 p.m. on Sunday, May 22 at the Blue Line Sports Bar & Grill in Sartell. Members of the three Lions clubs involved will be there to welcome participants. There will be 50/50 raffles, a Master Grilling raffle (barbecue equipment) and several speakers.
Sartell resident and intrepid volunteer Dennis Molitor has agreed to lead a project to build a "recognition display" near the inclusive playground. It will contain a storyboard, as well as the names of major donors who helped make the playground a reality. Anyone donating more than $1,000 will be recognized on the display. Donor levels are Gold ($1,000), Platinum ($5,000), and Diamond ($10,000).
Other fun fundraisers to come include the following:
Wednesday, May 18 starting at 5:00 p.m. A Bike Rodeo will be held at the Sartell Community Center, with a hot dog meal and an exhibit featuring artist drawings of the proposed inclusive playground. Members of the three Lions clubs will participate in the Bike Rodeo.
Monday July 25: A Golf for the Playground event at the Blackberry Ridge Golf Course in Sartell. It will be an 18-hole format with dinner and prize giving to follow the golf.
Every Tuesday in June and July (except July 5): During Swing into Summer Tuesday activities at the Sartell Community Center, there will be presentations of playground plans, barbecues led by Lions members and opportunities to contribute financially.
Those wishing to donate can send a check payable to The Waters Church, 1227 Pinecone Road N., Sartell, MN 56377. On the memo line of the check, write "Inclusive Playground." Waters Church has agreed to be the financial agent for donations.
Checks can also be mailed to Sartell Lions, PO Box 7, Sartell, Minnesota; or sent or delivered to Liberty Bank, 198 Pinecone Road N., Sartell, MN 56377.