Mel Nebhrajani CB receives nomination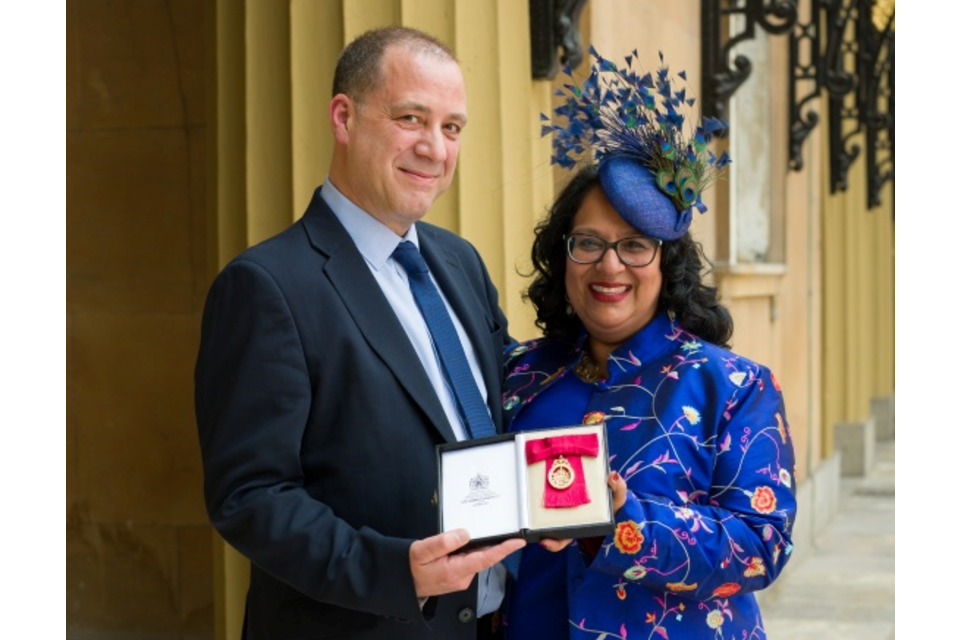 Managing Director Mel Nebhrajani CB received a Bath Companion (CB) in the Queen's 2021 New Year Honours. She received the award in recognition of her public service, in particular government law, the legal profession and specifically her leadership and work on the government's response to the COVID-19 pandemic during her tenure as Director of the DHSCLA.
Now, more than a year later, on Wednesday May 4, Mel, accompanied by her husband (pictured), traveled to the palace for the investiture ceremony, the first day the palace has held investitures since the lockdown. For the first time since 1904, the ceremony took place in the throne room, making the occasion even more special. Mel described the ceremony as a "pinch moment". It made her reflect on how far she has come and how grateful she is to those who have supported her over the years – her family, friends and colleagues.
Noting this support, Mel said, "No one does it alone, and I certainly didn't. I am grateful for the support of my wonderful family, friends and colleagues. This award isn't just for me – it's for them too and recognizes the incredible work being done across government in extraordinary times.
Our response to COVID-19 and our continued work in delivering services to government is outstanding – I want to thank you all for all you do."
She also noted, "I am not the only GLD colleague to have been honored. Lee John-Charles and Sam Ede recently received their CBEs and I would like to congratulate them as well.